Communication Assistance
Register
Details
Team
< Back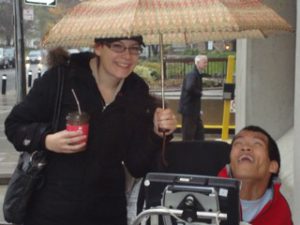 What is this course about?
The course is about ways to assist individuals who have communication disabilities if they need support communicating with other people. The course focuses on the  role of a person who provides assistance to a person who:
Is over 18 years of age
Has a speech, language and communication disability and may have:

Unclear speech
A picture, symbol, letter board
A communication device
Who might need communication assistance?
Not everyone who has a speech and language disability needs or wants communication assistance from another person.  However, many people require support when communicating in certain situations, especially at meetings and important appointments.
Who can take this course?
Anyone who supports a person with a communication disability in the community and/or is a:
Personal Support Worker
Personal Attendant
Communication Disorders Assistant
Communication Health Assistant
Direct Service Professional
Family Member
Friend
Disability Advocate
Student in a Disability Area
In addition, a person with a communication disability can take this course to help them train their personal assistants.
What will you learn in the course?
You will learn about:
People who have Communication Disabilities
Ways to Facilitate People to Communicate their Messages
Ways to Facilitate People to Understand what Others are Saying
Strategies for Facilitating Successful Interactions
Tips for Facilitating Communication at Meetings and Public Forums
This course is not accredited and does not qualify participants:
To use the term Communication Assistant as a professional title
To work as a Communication Disorders Assistant or Communication Health Assistant, who provide clinical services under the direction of a Speech-Language Pathologist
The course will not prepare you to:
Support people who do not have established communication methods or skills to communicate
Assist people with significant intellectual disabilities to communicate
Assess, introduce communication methods, provide therapy or communication services
Recommend, develop communication displays and devices
Support a person communicating in critical contexts such as in significant healthcare, police, legal or justice situations. These services are provided by Speech-Language Pathologists, and Augmentative Communication Clinicians.
How do you take the course?
The course is online in English and French.
You must have your own personal email to take the course. Your email address will not be shared with anyone or any group.
It takes approximately 2-3 hours to complete the course.
You can do the lessons anytime.
There is a short quiz at the end of each lesson.
Register